I am amazed at the people who are constantly sewing and reviewing their latest creations. I barely have time to sew, but envy those that churn out new pieces on a regular basis. Rather than dream about creating new clothes, I decided I just need to do it. One thing that holds me back is the fitting process. Once that is out of the way, things usually move along at a good pace. I guess I'm much more motived once I have a pattern I am comfortable sewing.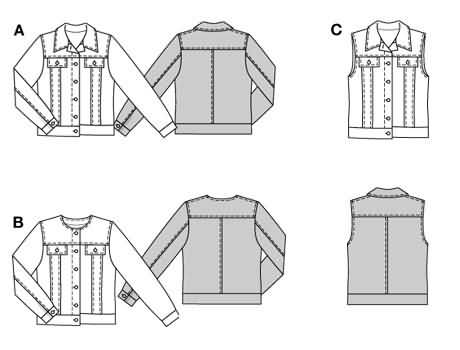 Last year I made Burda 8433 for the PR 2007 SWAP in black linen. I really liked the way this jacket looked and sewed up. My present wardrobe needed a casual jacket other than my denim one and this pattern was just what I needed to fill in the gap. This time I added the collar and cuffs which were not included on my jacket last year. In both cases, I left off the front faux pockets since I think the design is busy enough. Since I am not allowing myself to purchase any more fabric for now (we'll see if I stick with this plan) I shopped my stash and came up
with a bottom weight cotton in burnt orange. This color is a great contrast to many of my tops and bottoms in my summer wardrobe. I decided to emphasize the top-stitching by using a white thread and adding white buttons from the button stash to give the jacket more of a summer feel. Since I had fitted this jacket last year, the construction time went much faster than if I had never used this pattern. I finished this jacket last week and have already worn it three times. Something tells me that I will be using this pattern again when the right fabric in my stash speaks to me again.